How crisis forged YEL's business strategy
2
.
5
minutes
Time needed to read article.
45
seconds
Time needed to skim article.
How crisis forged YEL's business strategy 
Nancy Koehn penned a wonderful book titled Forged in Crisis.
Koehn talks about different historical leaders and the crises that lead to some of their most memorable achievements.
What struggles did Lincoln contend with to write his brilliant Gettysburg Address?
What injustices and trials did Frederick Douglass endure to become a preeminent anti-slavery leader?
How did Ernest Shackelton find strength to keep all of his crewmen alive for 18 months on and around the continent of Antarctica?
Dietrich Bonhoeffer and Rachel Carson are also discussed.
We can't compare ourselves to them, but we can learn from them
The challenging year we have gone through at YEL is no comparison to what Abraham Lincoln or Frederick Douglass endured. Those two men were incomparable and should be held up as two of the greatest American leaders in history. We can learn from them. We can learn the characteristics, attitudes, and leadership they used to effect soaring changes in U.S. history?
We at YEL conduct after school classes and summer camps for kids (not wars or epic anti-slavery campaigns). We love what we do. We are born to engage youth to think, learn, and play well. When schools and communities started shutting down in March of 2020, our primary goal was to help parents and kids through the shut down. A shut down that we thought, at the time, would last between 2-6 weeks.
Innovation
We immediately switched to online classes for as many subjects as we could. Just like the rest of society, we had to figure it out as we went. How do you get dozens of kids online at the same time? How do we have multiple teachers teaching classes at the same time online? How do we answer parent questions? Student questions? How do we share webcams and monitor chats?
We worked through these issues in the days immediately following the initial school closures. We started by offering free online classes. We felt that parents and kids needed help during these uncertain times. That they needed something to keep engaged and to keep learning.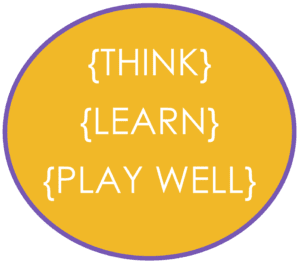 After six weeks of free online classes, and the continuation of school closures, we offered our online classes at a discounted rate. We trained our teachers how to be online teaching experts, prepare their lesson plans, and engage students for the entire time of class. We had nearly 2,000 online students and received an average rating of 4.75 stars out of 5.00 possible from parent surveys. We were continuing to meet our mission to engage youth to think, learn, and play well.
Once the summer of 2020 was within view and in-person summer camps were safe options for many communities, we innovated again and designed a full "Safe Summer 2020" protocol for teachers, students, and parents. This helped put everyone at ease so they were more comfortable with in-person classes.
Rapid Response
As mentioned above, once schools closed down, we had to have a rapid response. Parents, students, communities, and our teachers were all asking what we had to offer. We were online within a week. We were offering multiple online classes within two weeks. We had a full spate of online summer camps ready for communities and parents by mid-May. We adapted quickly and boldly.
Can-Do Attitude
In blistering cold weather (the low this morning was -11º), I'll occasionally walk the dog and I can't help but wonder how Shackelton and his crew endured 18 months traversing across Antarctica and taking lifeboats across the unforgiving sea and onto Elephant Island. All 28 of the crew survived. How?
I'll refer you to an excellent book for you and for middle school students titled Shackelton:Shipwrecked at the Bottom of the World. One characteristic was Shackelton's and his crew's Can-Do Attitude. How do you not get down when you are in constant sub zero temperatures and you only see the sun for a few minutes per day. Read the book and find out.
In March of 2020, not one of our team knew how to conduct online classes. Now, we have a half dozen experts at online classes.
None of us knew how to do safe social distancing, wear masks, teach fencing or chess classes wearing a mask, etc. Now, all YEL teachers are pros at keeping kids engaged and safe with social distancing and masks. If teachers or YEL Admin staff had said, "No. I'm not doing that." or given up, YEL may not be around today. And certainly we couldn't have served our kiddos in the same manner as we are doing.
If our Co-Founder and CFO, Lisa Gunhus had given up or given in, we wouldn't have applied for PPP and EIDL finances. We wouldn't have been able to keep our teachers and admin staff through this crisis.
Amplify Existing Staff's Expertise
I've mentioned our teacher's and staff's adaptability. What was interesting is teachers like USCF National Chess Master, Nathan Hoover became more valuable to chess students. His skills were amplified in an online setting. We have seen many students become much better players and amplify their skills as well. Liz Faircloth became an absolute expert at online coding lessons. Pavel Jany is a professional guitarist who learned how to become a great online guitar teacher. Molly Filipek is not a professional magician, but you would think she is from how engaged kids are during her magic classes. The overarching point here is that you may not know what those around you are capable of until they are put through crisis and forced to grow, adapt, and evolve.
Stay in the Fight
I struggled with using the "Stay in the Fight" mantra. Perhaps perseverance or a never quit attitude is better, but "Stay in the Fight" is the phrase that kept swimming in my mind. I'm reminded of President Theodore Roosevelt's speech titled "The Man in the Arena" and his words about credit going to the one in the arena, with the dust, the dirt, the highs of winning, the lows of losing. That inspires me. It keeps me going during those rough weeks, months, and yes, even year.
Summation
In summation, I'd say there is a lot of inspiration we can get from the American leaders of the past. Abraham Lincoln, Frederick Douglass, and let's not forget US Grant (Ron Chernow's Grant is a fantastic…FANTASTIC read!), teach us how to work through the difficult circumstances in our lives. We can draw on them for inspiration and I encourage you to look up these books, or find ones of your own for inspiration.
Question
What has inspired you to get through an incredibly challenging time in your life? Leave comments on this post.